Sensor connectors are a standard connecting solution for sensors and actuators in industrial network applications. They are designed to withstand harsh environments while providing reliable data and power transmission to automated machinery. Using an industry-standard connector simplifies sourcing the sensor cable connectors from suppliers for new projects and ensures replacements are readily available, which can significantly reduce production downtime.The M-style connectors are categorized by the size of the threaded locking nut; they include various sizes like the M5, M8, and M12 connectors. Contact arrangements in these styles can be 3,4,5,8 and 12 pins, most with IEC-compliant configurations.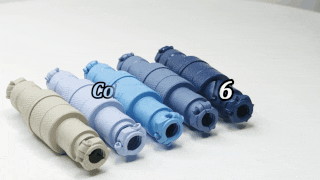 The GX16 connector is mostly used to transimit signals or power. This type of connector is used in places where a watertight connection is required, and also in harsh environments.Colored GX16/GX12 connetors are applied in custom mechanical keyboard cables. We have multiple color for your choice and custom color available.
M16 series connector equivalent as Binder eries 423, 723 and 425 family of connectors are rugged, high-performance circular connectors with excellent EMI shielding and IP67. Ideal choice for severe industrial and commercial applications.
MOCO connector Best MOCO Industrial Threaded WS-28 indoor connector plug socket inlet aviation Supplier,AUTHORITY:  Passed GJB9001C-2017, ISO9001:2015, UL, CE and RoHS certifications