What is F Series? | MOCO connector
2022/06/21
With the development of the market economy, people's demand for high-end products is increasing, and more and more people choose high-end connector products. Thus, our company has independently developed this F series connectors to meet the needs of the global market . It has the characteristics of high cost performance, short delivery cycle and strong compatibility.
What is F Series? | MOCO connector
F series products are with safely and quickly push-pull self-locking system, and easy to install, beautiful and elegant appearance features. Meet most market's demands. Can be customized according to customer needs, suitable for most outdoor environments. Temperature range: -45°~+125°, IP rating IP50~IP68. The metal structure is 360-degree anti-electromagnetic interference to ensure accurate signal delivery. The number of plugging and unplugging is far greater than 5000 times, which is suitable for frequent plugging and unplugging of machines, and is convenient and fast for outdoor use. MAIN FEATURES:
1. Security of the push -pull self-latching system
2. Multipole types 2 to 19 contacts
3. Solder or PCB contacts (straight or elbow)
4. High Packing density for space saving
5. Half-shell key to avoid cross mating
6. 360° screening for full EMC shielding
7. Vacuum-tight socket suitable for vacuum equipment
At present, our company has F series shell numbers 0F# 1F# 2F# 3F# 4F#, the colors are black and silver, and the specific number of cores is:
0F: 2, 3, 4, 5, 6, 7, 9, 13 pins,
1F: 2, 3, 4, 5, 6, 7, 8, 10, 12, 14 pins,
15F: 10, 12, 19 pins
2F: 2, 4, 5, 8, 9, 16 pins
3F: 2, 4, 7, 15 4F: 12 pins
2F coaxial mix: 4+1, 2F high voltage 4 pins,
2F9 pin (8*0.9mm+1*1.3mm)
Widely used in communications, electronics, testing and measurement, mechanical equipment, medical equipment and instruments and other industries; especially suitable for electrical connections on instruments and equipment that require frequent connection and separation, and need to be shielded.
In addition to provide high quality connectors, our company can also provide comprehensive welding cable assembly and processing services, welcome your call!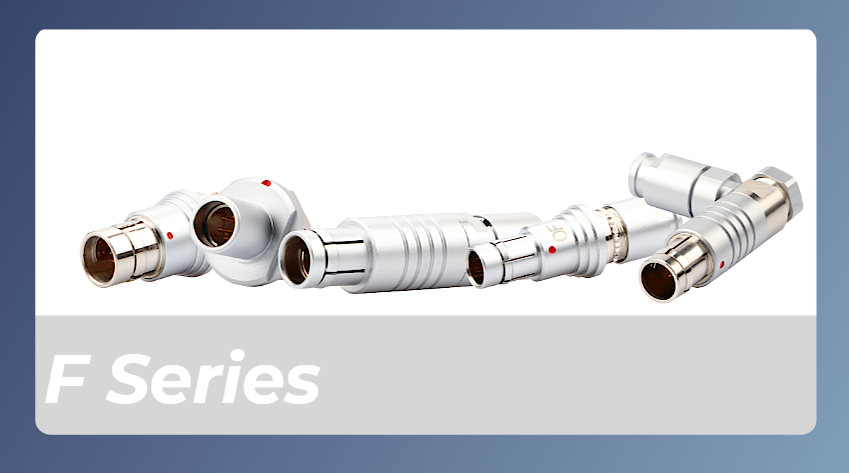 FAQ
1.What shipping method you support?
DHL, UPS, FedEx, TNT, ARAMEX, EMS, seaway and airway. We will choose the both fastest and cheapest shipping method for you. Also we can shipping the goods to your freight forwarder.
2.Can I order a small quantity?
For most of the standard connectors, our MOQ is 1-10pcs. And we support sample orders for each series. For detail information, please inquire us!
3.How I choose a connector which suitable for me?
We have detailed catalog, pls contact us to have it.


Advantages
1.Flexibility: Quickly and flexibility response for customer requirements and market changes. Universal model are rich in stock to achieve fast delivery.
2.Professionalism: 10 years professional push pull connectors R&D experiences to meet customers' customized requirements; Excellent sales team, 7/24 help customers to solve their problems.
3.Universality: Widely used in the fields of military, medical, audio-video, navigation, measurement, aviation, security, communication and automotive.
4.AUTONOMY: Owned advanced imported production equipment and professional inspection and testing equipment to complete the production and testing independently


About MOCO connector
Shenzhen MOCO Interconnect Co., Ltd,is a high-tech enterprise with nearly a decade experience of developing, designing and manufacturing push-pull self-locking connectors. With a number of authoritative patents,MOCO can supply eco-friendly qualitied and cable assmbly solutions for you. With 1600 square meters premises for research & development and production. Under the excellent management and great efforts of innovation for many years by MOCO team, we have developed a lot of popular products such as push pull connectors, bayonet connector and military connector.MOCO connectors are of stable performance and attractive appearance which are interchangeable with international brands, widely used in the fields measurement, medical, audio-video, military, navigation, scurity, aviation,industrial control, automotive and power etc.We have got 10 utility patents, 2 trade mark and 8 design patents, and passed UL,CE,RoHS and ISO9001:2015 certification. MOCO provides professional technology and service quarantee for your choice. MOCO imported modern high precision and high efficiencyprofessional processing equipment, including STAR CNC machines imported from japan, contact optical sorting machine, injection machine and grinding machine, and suppliemented with professionals and management team. MOCO implement comprehensive quality management,strictly implement the requirements of ISO9001:2015 quality managemen.